The T2s enjoyed a whole morning centred on keeping healthy, as part of their PSHEE topic. In small groups, the children took part in different health awareness sessions including: dental hygiene, keeping germs and head lice at bay, Mindfulness and keeping hearts and bodies fit and healthy.
The Byron House New Room, inaugurated in September, hosted the dental hygiene and hand washing sessions, as well as the whole year group discussions on germs and head lice with school Nurse, Mrs Claire Blewett.  Nurse Claire gave a practical session about washing hands correctly and used ultraviolet light to show the children the germs that can linger on our hands even after washing. One T2 (Year 2) child enthused, "I could see spots under my fingernails where germs can hide. If we hadn't been able to use the ultraviolet light I wouldn't have seen them!"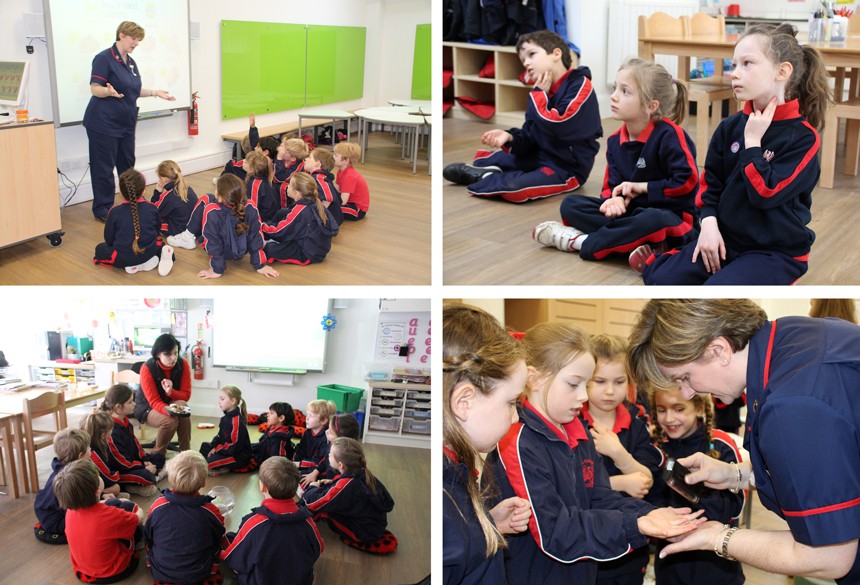 Sports Gap, Jake, also had the T2s jumping onto their feet with his session based on physical exercise and the importance of keeping our bones and hearts healthy. One of the T2s commented, "We found out about our pulse rates and how our heart beats get quicker with exercise; it was fun!" Another said, "I enjoyed relaxing with the mindfulness session as it was a chance to be calm. We looked at pebbles and stones and thought about how they felt."
The children also learnt about dental hygiene, courtesy of the Devonshire House Dental Practice. With the help of a giant toothbrush and a clever puppet, the children were encouraged to put protective gloves on and count each other's teeth.