Our Kindergarten indoor teaching area went through a transformation over the summer holidays and our newest pupils started their St John's journey in September in newly designed, spacious classrooms.  The floor area of both classrooms has been doubled, creating open-plan teaching spaces with plenty of light, new furniture, bespoke storage and free access to outdoor spaces.
The open-plan nature of the design lends itself to being easily adapted to suit the children's current learning topics. Child-accessible storage, using clear containers to allow the children to see the contents easily, enables them to access all of their learning materials independently and facilitates the free-flow learning style.  Child-height work tops have been built all the way around the classroom and the children have the opportunity for writing, model making, drawing and constructing throughout the day. The display spaces are magnetic and double as whiteboards and have become 'working walls' with the children adding to them as part of their learning.  There are four PC areas per classroom which can be used whenever required and there is enough space around each for the children to work in clusters, providing more collaborative working. The two child-height sinks enable them to have independent access to water at all times and the large tables are perfect for creative activities, construction, junk modelling and giant letter formation.  Kindergarten teacher, Miss Jenny Wilby, explained, "With all activities, the children can now problem-solve across their learning, for example they can make models with the salt dough for the role-play area, use clipboards and writing equipment and plan their construction projects, according to their own learning style."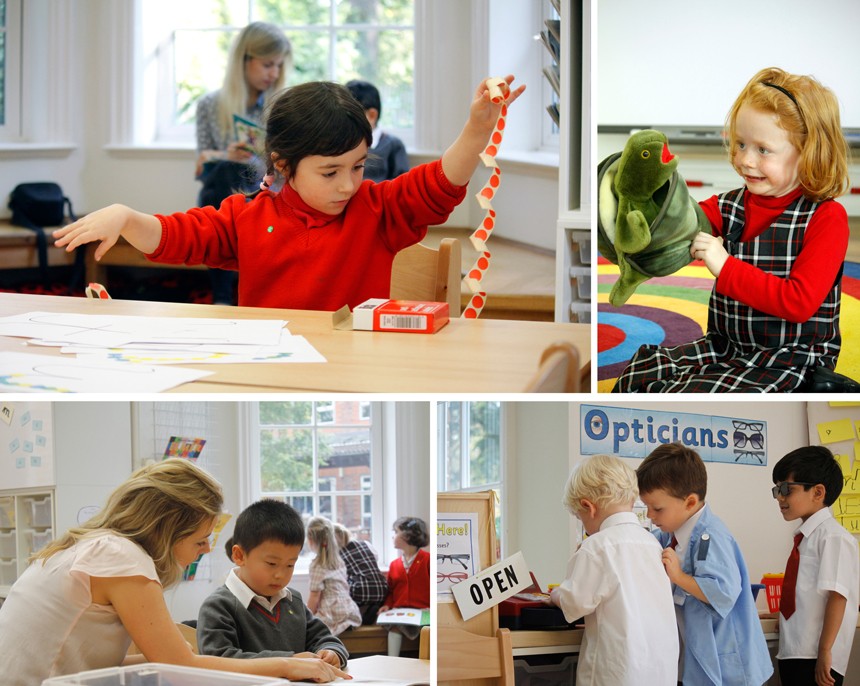 The lobby area between the two classrooms is a space for dialogue (part of our Emotions for Learning curriculum), the 'Question of the Week' table, small group activities and for the children to do their 'feelings self-registration' in the mornings. One new Kindergarten parent enthused, "My child loves having so much space to learn and the areas have been so cleverly re-developed with the child's learning at heart."
Next in the redevelopment programme is the delivery of a new landscaped outdoor area.  In the meantime the outdoor area has been enhanced offering a large canopy for wet weather and to act as a transition space between indoors and outdoors, two sinks and a water butt so the children can access water independently as required, a hard surface for rolling, building, painting, chalking, a bark surface for natural materials and the mud kitchen, chalkboards and an activity table, flower beds and the sand pit.