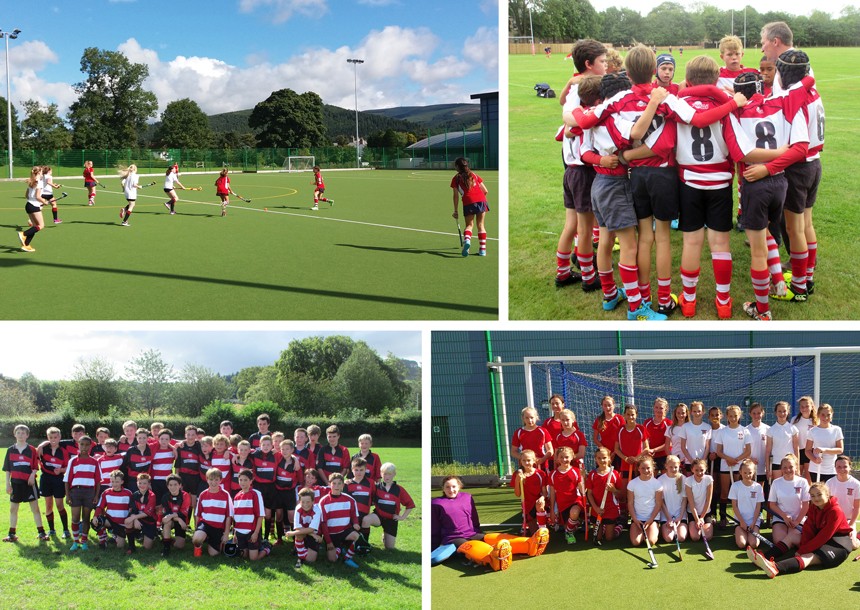 After a long summer break a group of Form 5 and 6 children were ready to hone their rugby and hockey skills with a mini tour to Edinburgh. The group of girls and boys had an initial training session at school before taking the train to Edinburgh to play against Loretto School, situated on the outskirts of the city, as well as Peebles High School.
The children stayed at the Smart City Hostel and were taken straight off the train to BT Murrayfield Stadium for a tour around the home of Scottish rugby. The stadium has a seated capacity of 67,800 (the largest in Scotland) and the children enjoyed a guided tour before heading to Loretto School for their first competitive match of the season. The girls played 8 a side and used a different formation, resulting in a convincing win. St John's rugby team played well and moved the ball wide and built phases of possession. They worked hard in both defence and attack and supported the ball carrier well. They were victorious and won with a convincing score 31-0.
The following morning the children enjoyed an historic tour around Edinburgh Castle before doing a quick spot of shopping on the famous Royal Mile and Princes Street, with some tram spotting along the way.
Sunday was match day at Peebles High School with both our St John's rugby and hockey teams taking to the pitches for their second fixtures. Sportsmanship was on show throughout with the captains of both rugby teams swapping ties at the end of the match. Peebles High had a large squad of players to choose from and the regular introduction of fresh legs onto the pitch by the opposition meant that St John's eventually ran out of steam. Head of Boys' Games, Mr Steve Glitherow explained, "We showed huge desire in defence and managed to score a few nice tries. We eventually lost 34-19."
Mrs Nikki Taylor, Head of Girls' Games, enthused, "It was a great start to the season and fun was had by all. The Pre-Season Hockey Festival on home turf will also enable the girls to hone their skills before the fixtures start."